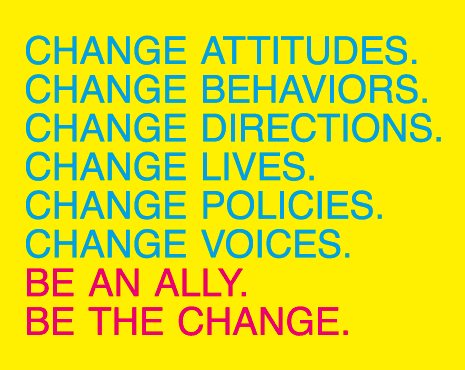 Throughout my time as an organizer, I have learned a few things about Organizing: 
Organizing is about connection
Organizing is about stepping out of one's comfort zone and into a place of action
Organizing is about Community and allyship
A few weeks ago speakers upon speakers took to a simple podium, with a backdrop of the grandest scale, in order to honor a moment 50 years earlier that changed the course of this nation: the March on Washington. Community Leaders, including GLSEN's own Eliza Byard, spoke about what the March meant to the movement. And over the roars of applause, I heard an overarching message of joining hands marching forward; this, I thought to myself, is allyship. 
After about the third speech, I was taken back to those core organizing principles. I began to ask myself questions around allyship, around my privilege in the safer schools movement, and perhaps most of all, what can be done to join hands and move the movement forward. I thought about my work at GLSEN and our programs. I thought about Ally Week.
Ally Week is nearly upon us and this year we're asking ourselves, "how can we become an even better ally?" The fact is, everyone, no matter who you are in the school community or community-at-large, can do something to become an even better ally to someone else. As a cisgender, male-identified, gay adult, I know my privilege provides me with access that I can, and must, use to move the movement forward; I can become an even better ally to LGBT youth, trans & gender non-conforming students, and differently-able bodied persons, to name a few. Ally Week is a week where we can create the time and space to ask ourselves insightful questions, join hands, and to march forward in solidarity toward our dream of safer schools for all!
Do I have you inspired yet? If so, here's my call to action (it comes in two parts - ask & act):
Ask yourself, "how can I become an even better ally to ____________?"
Take actions to better your allyship! 
No matter if you have a minute, an hour, or an afternoon, we have actions you can do! 
Know that whichever actions you choose, by stepping up and participating you are moving the movement forward. 
Collectively, we are all working on becoming #BetterAllies.