GLSEN has been conducting groundbreaking research on LGBT issues in K-12 education since 1999. Over these years, we've provided advocates and scholars with many publications about the experiences of students, educators, and parents. With so much information, how do you know where to start?
It's easy to find our publications at glsen.org/research! Research that we publish ourselves is available to download for free. Here's an overview of the reports and briefs you'll find:
The National School Climate Survey
Conducted every two years, it's the only national survey of LGBT secondary student experiences at school.
The full report contains detailed information about LGBT student experiences. Executive summaries are available in both English and Spanish.
Our State Snapshots pull state-level findings from the most recent National School Climate Survey to provide information about what school is like
for LGBT youth in dozens of different states.
If there's no State Snapshot available for your state, or if you would like to examine secondary students' experiences in your school or community, you can conduct your own research with our Local School Climate Survey. The tool makes selected questions from The National School Climate Survey available for advocates to administer in their local communities.
What are effective strategies for improving school climate? Our evaluation reports examine the impact of programs and resources recommended by GLSEN, and also discuss what safe schools and LGBT advocates can learn from our efforts.
Articles & Book Chapters
Researchers at GLSEN also publish our findings in peer-reviewed journals and in books, where we often take a more in-depth, technical approach to our research.
Although we are unable to make many articles and book chapters available for free, we do provide links to where you may find the publications.
Now that you know what's already available, why not make sure you're the first to know what's next from GLSEN's Research Department? Click here to sign up for our email list and receive updates when we release new research findings or hosts events like webinars. You can also follow us on Twitter: @GLSENResearch.
Students and educators across the country are checking their schools to Spot the Sticker, but do Safe Space stickers and posters make a difference? Can these stickers and posters really help make schools better for LGBT students?
Here in GLSEN's research department, we've been asking both educators and LGBT students about the Safe Space stickers and posters. Our 2011 National School Climate Survey compared the experiences of LGBT students who had seen a Safe Space sticker or poster at school to those who had not. LGBT students with Safe Space sticker or poster at school were…
Able to identify more supportive school staff members.
More comfortable talking with their teachers about LGBT issues.
More likely to have positive conversations about LGBT issues with their teachers.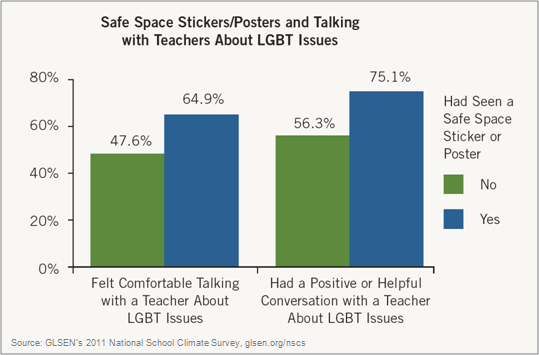 Educators can do many things to make schools safer for LGBT students: serving as GSA advisors, incorporating LGBT-related issues into their classes, and intervening when they see anti-LGBT behavior at school. Even an action as simple as displaying a Safe Space sticker or poster can send a strong message to LGBT students about where to find caring adult allies at school.
After I posted the posters and stickers, my students started to ask me about it. It also made a statement to them that my classroom promotes respect.
Middle school teacher, California
As part of our ongoing evaluation of the Safe Space Kit, we asked educators across the country about how they used their Safe Space Kits, and if they thought displaying the posters and stickers  made a difference in their classrooms. Many educators told us that they thought that Safe Space stickers and posters were useful tools for encouraging respect in their classrooms and opening dialogue about LGBT issues with their students. (See above and below for educator quotes.)
A majority of teachers at my school put the stickers on their doors, showing that the staff is unified in making out school an open and accepting place.
High school teacher, Colorado
Learn more on page 67 of the full report of the National School Climate Survey (pdf).
Follow @GLSENResearch on Twitter!

2009 National School Climate Survey
The study titled, "High School Gay-Straight-Alliances (GSAs) and Young Adult Well-Being," was co-authored by Russell Toomey and Stephen T. Russel and based on data by the Family Acceptance Project. It confirms what GLSEN research has found about the positive effects of GSAs for current students, and sheds light on the ways GSAs may affect LGBT youth into adulthood.
Over a decade ago, GLSEN conducted the first national survey of LGBT students because not much other research documented the lives of LGBT youth. Although the volume of research on LGBT youth has increased since then, studies have more often examined negativefactors and risks rather than the impact of supportive resources.  
To fill this void,our biennial National School Climate Survey has continually examined the effects of school resources and supports, such as Gay-Straight Alliances (GSAs).
In our research brief Gay-Straight Alliances: Creating Safer Schools for LGBT Students and their Allies,we reported that GSAs can impact school experiences for LGBT youth in many ways. We found that LGBT students at schools with GSAs were less likely than students without a GSA to hear homophobic remarks, feel unsafe at school, miss school, and experience physical violence.They were also more likely to have supportive school staff and feel connected to their school communities.
GSAs seem to make a positive difference in the lives of LGBTyouth, but does that impact continue as they grow into adulthood? 
The new study, authored by Dr. Russell Toomey and colleagues, asked LGBT young adults in northern California to look back on their high school experiences, and found that:
LGBT young adults who went to a high school with a GSA were…
Less likely to have dropped out of high school

Less likely to experience depression

More likely to have attended college
Those who participated in their school's GSA were…
Less likely to have abused drugs or alcohol

More protected against the negative mental health effects of bullying
All studies have limitations, so it is important to note that this research was limited to a relatively small number of participants from a fairly small geographic area. The research relied on participants' memories of their high school experiences, instead of following LGBT youth as they aged. 
Still, our colleagues' study is an exciting step forward in learning about the lasting potential benefits of supportive school resources for LGBT youth.
In the future, we hope to see national and longitudinal research on positive LGBT youth development.